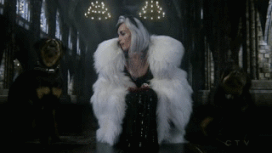 Animal Control
is the ability to magically control animals, featured on ABC's
Once Upon a Time
.
Users
Cruella De Vil – Cruella is the only known person with this specific ability.
Trivia
This ability is a reference to Cruella's green smoke from The Hundred and One Dalmatians.
Potentially, any sorcerer or sorceress could replicate Cruella's ability by ripping out an animal's heart and controlling it.
Appearances
S4, E12: "Darkness On The Edge Of Town"
S4, E18: "Sympathy for the De Vil"