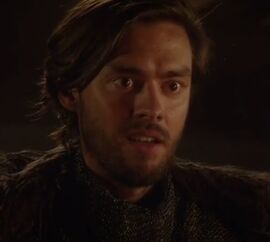 Beowulf
is a character on ABC's
Once Upon a Time
. He is portrayed by
Torstein Bjørklund
.
Biography
Background
A legendary folk hero, Beowulf detests the fact that Rumplestiltskin ended the Ogre War with dark magic, and sees him as a monster. In order to defeat the Dark One and become the hero he wants to be, Beowulf pretends to be the Grendel to lure Rumplestiltskin in an attempt to frame him for murder. When Beowulf tells them his plan, Baelfire fears for their reputation and, in a moment of blind panic, uses the Dark One's Dagger to order his father to kill Beowulf. Unable to control himself, Rumplestiltskin attacks Beowulf and snaps his neck, killing him.
Family/Relationships
Status: Deceased
Trivia
Beowulf is based on the legendary hero from the story of the same name, Beowulf.
Appearances
S6, E13: "Ill-Boding Patterns" (flashback)
Ad blocker interference detected!
Wikia is a free-to-use site that makes money from advertising. We have a modified experience for viewers using ad blockers

Wikia is not accessible if you've made further modifications. Remove the custom ad blocker rule(s) and the page will load as expected.