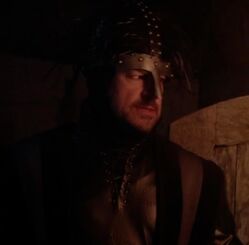 Berkley
is a character on ABC's
Once Upon a Time
, portrayed by
Aleks Paunovic
.
Biography
Berkley became one of the Black Knights working for Queen Regina, and was present when Regina ordered the extermination of an entire village loyal to fugitive Snow White. Later, when Regina disguised herself as a peasant with a glamor spell, Berkley and Rivers almost execute her, not realizing its their Queen. However, they are defeated by Snow White herself.
Family
Status: Unknown
Trivia
Berkley may have been killed, as punishment for almost executing his Queen, which would count as attempted regicide.
Appearances
S2, E20: "The Evil Queen" (flashback)
Ad blocker interference detected!
Wikia is a free-to-use site that makes money from advertising. We have a modified experience for viewers using ad blockers

Wikia is not accessible if you've made further modifications. Remove the custom ad blocker rule(s) and the page will load as expected.