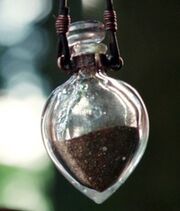 Black Fairy Dust
is a magical item on ABC's
Once Upon a Time
. It is a dark variant of
fairy dust
, mined and used by the
Black Fairy
. Black fairy dust also has the ability to turn people into insects.
Users
Used on
Trivia
The Black Fairy created the Dark Curse and the Black Curse by accumulating an enormous quantity of black fairy dust.
Appearances
S1, E03: "Snow Falls" (flashback)
---
S3, E22: "There's No Place Like Home"
---
S6, E16: "Mother's Little Helper"
Ad blocker interference detected!
Wikia is a free-to-use site that makes money from advertising. We have a modified experience for viewers using ad blockers

Wikia is not accessible if you've made further modifications. Remove the custom ad blocker rule(s) and the page will load as expected.