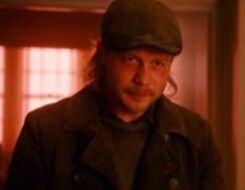 Blacktooth
is a character on ABC's
Once Upon a Time
. He is portrayed by
Steve Roberts
.
Biography
Background
Blacktooth was a villager of the Enchanted Forest who was murdered by Queen Regina Mills.
Season 5
After his demise, Blacktooth finds himself in the Underworld, where he works for the Underworld's mayor Cora Mills. Cora, who happens to be Regina's mother, orders Blacktooth to spy on Regina when she arrives in the Underworld. Eventually, Blacktooth is condemned to the "worse place" by Cora.
Family
Status: Deceased
Appearances
S5, E12: "Souls of the Departed"
Ad blocker interference detected!
Wikia is a free-to-use site that makes money from advertising. We have a modified experience for viewers using ad blockers

Wikia is not accessible if you've made further modifications. Remove the custom ad blocker rule(s) and the page will load as expected.