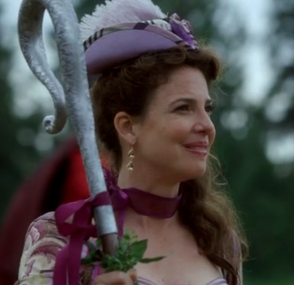 Bo Peep
is a character featured on ABC's
Once Upon a Time
. She was a ruthless warlord back in the
Enchanted Forest
who branded people with an enchanted shepherd's crook so they would do what she wants. In
Storybrooke
, Bo Peep is a butcher. She is portrayed by
Robin Weigert
.
Biography
Background
In the Enchanted Forest, Bo Peep has an army of her own, and she bullies the owners of a farm, David and Ruth, by threatening to take their farm and keep them as slaves. David initially decides to be bullied into submission by Bo Peep, until a visitor named Anna who is staying at the farm for a short while tries to convince him to fight against Bo Peep. David refuses to do this, until Anna is kidnapped and branded by Bo Peep. David confronts her and fights some of her forces, defeating them. Bo Peep then engages in a swordfight with David herself, only to be defeated. David rescues Anna and they leave.
Season 4
When she is transported by the Dark Curse to a town called Storybrooke, Bo Peep is working as a butcher and no longer has the power and influence she used to have. She is confronted by David and Hook, who want Bo Peep's crook in order to locate Anna, who had been branded by Bo Peep. When Bo Peep refuses to help them and attempts to attack David with a cleaver, they restrain her and take her crook.
Family/Relationships
Status: Alive
Trivia
She is based on the titular character from the nursery rhyme Little Bo Peep.
Appearances
Ad blocker interference detected!
Wikia is a free-to-use site that makes money from advertising. We have a modified experience for viewers using ad blockers

Wikia is not accessible if you've made further modifications. Remove the custom ad blocker rule(s) and the page will load as expected.