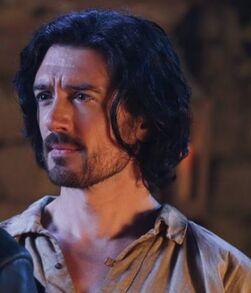 Brennan Jones
is a character on ABC's
Once Upon a Time
. He is portrayed by
Adam Croasdell
.
Biography
Background
Brennan, a fugitive, abandons his sons Killian and Liam to escape. However, he is caught and eventually put under the Sleeping Curse. Whilst under the curse, Brennan falls in love with a woman who nurses him and eventually true love's kiss wakes him up. The woman becomes his wife and although she dies from a plague, they have one son together. A century after abandoning his two eldest sons, Brennan works at a tavern and is surprised to discover that Killian is still alive. Killian had been ordered by the Evil Queen to kill Brennan as a test to ensure that Killian would be able to assassinate the Queen of Hearts. Although Killian cannot bring himself to kill his father at first, after discovering that Brennan named his new son after Liam, Killian slaughters Brennan.
Season 5
It is revealed that Killian and Regina agreed not to speak about Brennan's murder.
Family
Alive:
Deceased:
Status: Deceased
Trivia
Brennan is the father of Captain Hook, the pirate from Peter Pan.
Appearances
S5, E11: "Swan Song" (flashback)