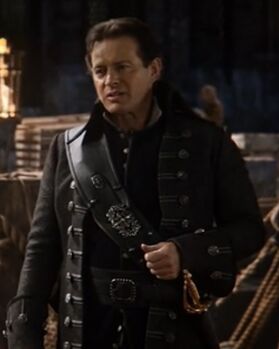 Captain Silver
is a character on ABC's
Once Upon a Time
. He is portrayed by
Costas Mandylor
.
Biography
Background
Silver is the captain of a ship, with Killian and Liam Jones being part of his crew. He deliberately prevents Killian from being able to join the Royal Navy by making him gamble his money away. However, Killian and Liam later stage a mutiny against Silver. After a vicious storm and a deal with the devil, Silver's ship is destroyed by the storm, killing Silver and all his crew, excluding Killian and Liam.
Season 5
Silver discovers that Liam's deal with Hades caused Silver and his crew's death, and they plan on sending Killian and Liam to the "worse place" beneath the Underworld. However, Hades shows up and throws Silver in there instead.
Family/Relationships
Status: Deceased
Trivia
He may be loosely based on Long John Silver from the story Treasure Island, although he is the victim of the mutiny, as opposed to being part of it.
Appearances
S5, E15: "The Brothers Jones"
Ad blocker interference detected!
Wikia is a free-to-use site that makes money from advertising. We have a modified experience for viewers using ad blockers

Wikia is not accessible if you've made further modifications. Remove the custom ad blocker rule(s) and the page will load as expected.