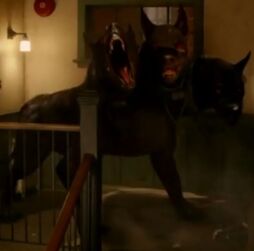 Cerberus
is a creature on ABC's
Once Upon a Time
, appearing as a three-headed hellhound who takes orders from
Hades
.
Biography
Background
Cerberus is responsible for the deaths of Hercules and Megara.
Season 5
In the Underworld, Cerberus chases after Megara when she escapes from Hades' dungeon. However, Cerberus is slain simultaneously by Hercules, Megara and Snow White.
Family/Relationships
Status: Deceased
Trivia
Cerberus is based on the three-headed canine underworld guardian from Greek Mythology.
Cerberus appeared to have been under Hades' control, since when he whistles, Cerberus calms down.
Appearances