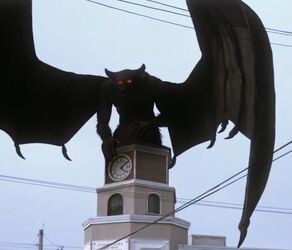 Chernabog
is a character on ABC's
Once Upon a Time
. He was an ancient demon that fed off potential evil.
Biography
Background
Chernabog was positioned at Bald Mountain, where he guarded the Dark Curse. However, Rumplestiltskin, along with Ursula, Maleficent and Cruella De Vil, managed to take the Dark Curse and escape Chernabog's wrath. Later, Chernabog managed to get trapped inside the Sorcerer's Hat.
Season 4
In Storybrooke, Chernabog is unintentionally released and wreaks havoc. He senses the potential evil inside Emma Swan and chases her down to the town border. However, Chernabog flies across the border, out of Storybrooke where there is no magic. Since Chernabog is made of magic, he disintegrates outside Storybrooke.
Family/Relationships
Status: Deceased
Trivia
Appearances
S4, E12: "Darkness On The Edge Of Town"