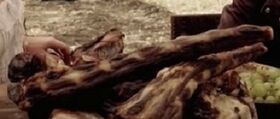 Chimeras
are creatures on ABC's
Once Upon a Time
. They are described as one part lion, one part serpent, one part goat.
Information
Chimeras can be eaten as food, as seen at Lancelot's village in the Enchanted Forest, to which Emma Swan compares its description to turducken.
King Midas kept a chimera as a golden statue, as part of his collection.
Chimera blood can be used as an ingredient to create the Curse of the Empty Hearted, which will cast a spell that will cause its victim to believe that they feel love for the caster.
Appearances
S2, E03: "Lady of the Lake" (corpse)