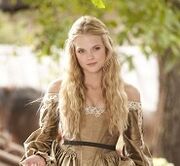 Claire Fairchild
is a character on ABC's
Once Upon a Time
.
Biography
Background
In her teenage years, Regina Mills is befriended by Claire Fairchild. Together, they encounter the Blind Witch and Regina truly believes that they are friends until she realizes that Cora orchestrated everything, including Claire, who ends up becoming engaged to marry Prince Benjamin. Claire and Regina do not speak again.
Family/Relationships
Unnamed male (deceased father)
Unnamed female (deceased mother)
Corbin Fairchild (deceased brother)
Benjamin (fiancé)
Giles Spencer (uncle)
Louise (aunt)
Unnamed male (deceased nephew)
Status: Alive
Trivia
Appearances

This information may or may not be entirely accurate, as it is based solely on other information found online.
Ad blocker interference detected!
Wikia is a free-to-use site that makes money from advertising. We have a modified experience for viewers using ad blockers

Wikia is not accessible if you've made further modifications. Remove the custom ad blocker rule(s) and the page will load as expected.