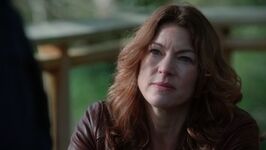 Cleo Fox
is a character on ABC's
Once Upon a Time
. She is portrayed by
Rya Kihlstedt
.
Biography
Background
Cleo is a bail-bondsperson who manages to track down a young Emma Swan. Emma convinces Cleo to take her to the courthouse to locate files that might give a clue as to where Emma came from, and Cleo begrudgingly agrees. When Emma finds nothing of value, she breaks into the courthouse again that night, only for Cleo to track her down once more. Later, the police arrive, prompting Cleo and Emma to leap from a broken window and make their escape. However, Cleo - having landed on broken glass - dies in an alleyway. She is later cremated at Ellsworth Crematory. After Cleo's death, Emma tells Cleo's daughter Tasha information about her late mother.
Family
Status: Deceased
Trivia
Emma later becomes a bail-bondsperson herself, utilizing the same techniques Cleo used on her, to use on Ryan Marlow.
Appearances
S5, E20: "Firebird" (flashback)
Ad blocker interference detected!
Wikia is a free-to-use site that makes money from advertising. We have a modified experience for viewers using ad blockers

Wikia is not accessible if you've made further modifications. Remove the custom ad blocker rule(s) and the page will load as expected.