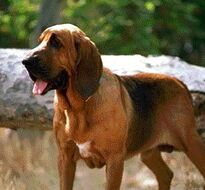 This article is about the dog named Copper. If you are searching for the currency referred to as "coppers", see here.
Copper is a bloodhound on ABC's Once Upon a Time.
Biography
Background
Copper is a bloodhound that belongs to Amos Slade. However, after Amos is slain in a werewolf attack, he becomes Peter's dog. Peter is the one who decides to name him Copper.
Family
Status: Alive
Trivia
Appearances
Bk 4: "Red's Untold Tale"
Ad blocker interference detected!
Wikia is a free-to-use site that makes money from advertising. We have a modified experience for viewers using ad blockers

Wikia is not accessible if you've made further modifications. Remove the custom ad blocker rule(s) and the page will load as expected.