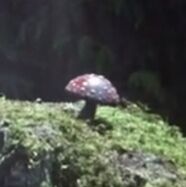 The
Crimson Crown
is a magical toadstool on ABC's
Once Upon a Time
.
Information
The Crimson Crown can be used to communicate through magical barriers.
It is associated with the planet Mercury, and the element of air.
It may be used as a fertility charm. Some use the Crimson Crown to aid with astral travel, which is known to be dangerous.
Some associate this fungus with Dionysus.
There are a number of other folk magic uses for the Crimson Crown, and one may incorporate them at a symbolic level, rather than actually eating them.
Trivia
Their other name, Vermiculus coronam, is Latin for "crimson crown".
Apparently, the Crimson Crown can only be used by someone chosen by Merlin.
Appearances
S5, E03: "Siege Perilous"
Ad blocker interference detected!
Wikia is a free-to-use site that makes money from advertising. We have a modified experience for viewers using ad blockers

Wikia is not accessible if you've made further modifications. Remove the custom ad blocker rule(s) and the page will load as expected.