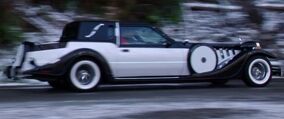 Cruella De Vil's cars
are vehicles featured on ABC's
Once Upon a Time
. They are a trio of cars that belonged to
Cruella De Vil
.
Biography
Background
Isaac Heller once owned the car and was in possession of it when he travelled to 1920's England to interview Cruella's mother Madeline. He allows Cruella to borrow it, although it ends up being Cruella's. When Cruella travels to Earth, she owns a replica of the car.
Season 4
After her husband ends up getting arrested, Cruella keeps her car and is convinced to drive to Storybrooke with Rumplestiltskin and Ursula. An enchantment is placed on the car which allows it to drive by itself. When Isaac is brought to Storybrooke, Cruella abducts Henry and orders him to get in the car so that Emma and Regina will assassinate Isaac for her. However, Emma ends up killing Cruella instead, leaving the car without an owner.
Season 5
The car is later seen with "FOR SALE" written on the window. Cruella is seen driving another copy of her car in the Underworld.
Users
Trivia
Appearances
S4, E12: "Darkness On The Edge Of Town"
S4, E13: "Unforgiven"
S4, E14: "Enter The Dragon"
S4, E15: "Poor Unfortunate Soul"
S4, E16: "Best Laid Plans"
S4, E18: "Sympathy For The De Vil"
---
S5, E05: "Dreamcatcher"
S5, E12: "Souls of the Departed"
S5, E15: "The Brothers Jones"
S5, E19: "Sisters"