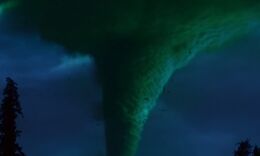 Cyclones
are magical phenomenons on ABC's
Once Upon a Time
. They can be used to transport people and objects as large as houses to other worlds.
Users
Season 3
Season 5
Regina Mills, Snow White, David Nolan, Zelena Mills, Robin Hood, Granny, Grumpy, Doc, Killian Jones, Roland, Belle, Happy, Neal Nolan — travels from Storybrooke to the Enchanted Forest
Zelena Mills — travels from Storybrooke to Oz
Ruby Lucas — travels from Oz to the Underworld
Season 6
Trivia
Appearances
S3, E16: "It's Not Easy Being Green" (flashback)
S3, E18: "Bleeding Through" (flashback)
S3, E20: "Kansas" (flashback)
---
S5, E01: "The Dark Swan" 
S5, E11: "Swan Song"
S5, E17: "Her Handsome Hero"
S5, E18: "Ruby Slippers" (flashback)
---
S6, E18: "Where Bluebirds Fly"
Ad blocker interference detected!
Wikia is a free-to-use site that makes money from advertising. We have a modified experience for viewers using ad blockers

Wikia is not accessible if you've made further modifications. Remove the custom ad blocker rule(s) and the page will load as expected.