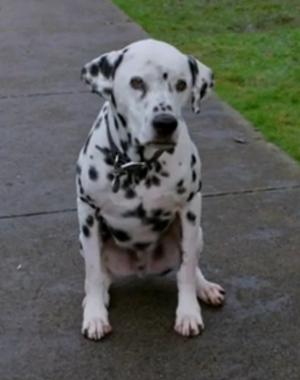 Dalmatians
are a species of dog featured on ABC's
Once Upon a Time
.
Known Dalmatians
Pongo - a Dalmatian in Storybrooke owned by Archie Hopper, briefly controlled by Cruella De Vil
Madeline De Vil's Dalmatians - used to keep Cruella inside the house, Cruella later turned them against their owner and killed Madeline, before Cruella slaughtered and skinned them to make a fur coat
Appearances
S1, E01: "Pilot"
S1, E02: "The Thing You Love Most"
S1, E05: "That Still Small Voice"
S1, E13: "What Happened to Frederick"
---
S2, E10: "The Cricket Game"
S2, E11: "The Outsider"
S2, E17: "Welcome to Storybrooke" (flashback)
---
S4, E18: "Sympathy For The De Vil"
---
S6, E01: "The Savior"
S6, E05: "Street Rats"
Ad blocker interference detected!
Wikia is a free-to-use site that makes money from advertising. We have a modified experience for viewers using ad blockers

Wikia is not accessible if you've made further modifications. Remove the custom ad blocker rule(s) and the page will load as expected.