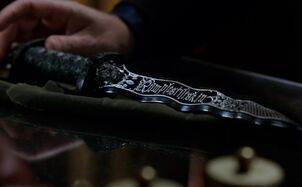 The
Dark One's Dagger
is a magical blade featured on ABC's
Once Upon a Time
, that carries the
Dark One's Curse
, and it can also be used to control the Dark One. If someone kills the Dark One with this dagger, they become the Dark One. The dagger is actually the tip of
Excalibur
. The dagger's gallery is
here
.
Appearances
S1, E08: "Desperate Souls" (flashback)
S1, E19: "The Return"
---
S2, E01: "Broken"
S2, E15: "The Queen is Dead"
S2, E16: "The Miller's Daughter"
---
S3, E02: "Lost Girl"
S3, E14: "The Tower"
S3, E15: "Quiet Minds"
S3, E16: "It's Not Easy Being Green"
S3, E18: "Bleeding Through"
S3, E19: "A Curious Thing"
S3, E20: "Kansas"
S3, E21: "Snow Drifts"
S3, E22: "There's No Place Like Home"
---
S4, E01: "A Tale of Two Sisters"
S4, E03: "Rocky Road"
S4, E04: "The Apprentice"
S4, E06: "Family Business"
S4, E08: "Smash the Mirror"
S4, E09: "Fall"
S4, E10: "Shattered Sight"
S4, E11: "Heroes and Villains"
S4, E12: "Darkness On The Edge Of Town"
S4, E14: "Enter The Dragon"
S4, E17: "Heart Of Gold" (flashback)
S4, E22: "Operation Mongoose, Part Two"
---
S5, E01: "The Dark Swan"
S5, E02: "The Price"
S5, E04: "The Broken Kingdom"
S5, E05: "Dreamcatcher"
S5, E07: "Nimue"
S5, E08: "Birth"
S5, E10: "Broken Heart"
S5, E11: "Swan Song"
S5, E14: "Devil's Due"
S5, E16: "Our Decay"
S5, E17: "Her Handsome Hero"
---
S6, E05: "Strange Case"
S6, E09: "Changelings" (flashback)
S6, E13: "Ill-Boding Patterns"
S6, E16: "Mother's Little Helper"
S6, E17: "Awake"
Ad blocker interference detected!
Wikia is a free-to-use site that makes money from advertising. We have a modified experience for viewers using ad blockers

Wikia is not accessible if you've made further modifications. Remove the custom ad blocker rule(s) and the page will load as expected.