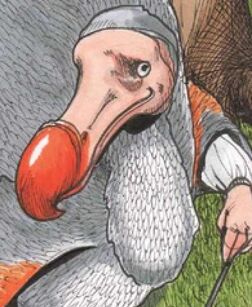 The
Dodo
is a character on ABC's
Once Upon a Time
. It was a flightless bird who inhabited
Wonderland
.
Biography
Background
When Jefferson arrives in Wonderland searching for the March Hare's mansion, the Dodo informs him of its location. Some time later, after Anastasia's marriage to the Red King, the Dodo is killed and eaten by Anastasia's jubjub.
Once Upon a Time in Wonderland
The Dodo's death is brought up by one of the peasants requesting an audience with Anastasia, who simply responds that she does not care. The peasant in question is later killed by Jafar.
Family/Relationships
Status: Deceased
Trivia
Appearances
Bk 3: "Out Of The Past" - Tea Party In March
Ad blocker interference detected!
Wikia is a free-to-use site that makes money from advertising. We have a modified experience for viewers using ad blockers

Wikia is not accessible if you've made further modifications. Remove the custom ad blocker rule(s) and the page will load as expected.