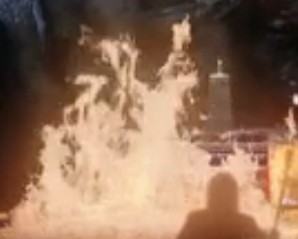 Dragon Fire
is a magical item featured on ABC's
Once Upon a Time
, and are the flames that
dragons
have the ability to store inside them and use as a weapon by breathing it out their mouths.
Appearances
S1, E06: "The Shepherd" (flashback)
S1, E22: "A Land Without Magic"
---
S3, E12: "New York City Serenade" (flashback)
---
S4, E12: "Darkness On The Edge Of Town" (flashback)
S4, E13: "Unforgiven" (flashback)
S4, E14: "Enter the Dragon" (flashback)
S4, E16: "Best Laid Plans" (flashback)
S4, E20: "Mother"
S4, E22: "Operation Mongoose, Part Two"
---
S6, E08: "I'll Be Your Mirror"
Ad blocker interference detected!
Wikia is a free-to-use site that makes money from advertising. We have a modified experience for viewers using ad blockers

Wikia is not accessible if you've made further modifications. Remove the custom ad blocker rule(s) and the page will load as expected.