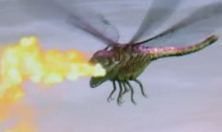 Dragonflies
are creatures on ABC's
Once Upon a Time in Wonderland
.
Information
Dragonflies are creatures native to Wonderland, that resemble a cross between the normal types of dragonflies found on Earth, and dragons of the Enchanted Forest.
They have the ability to breathe fire, just like dragons.
Dragonflies can be found at the Mallow Marsh, which Alice and Will use to their advantage when they find themselves stuck in the Mallow Marsh, and use the dragonflies to roast the marshmallow surface of the Mallow Marsh, thus allowing them to escape.
Trivia
Appearances
W, E01: "Down the Rabbit Hole"