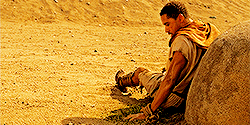 Elemental Control
refers to the ability to magically control the elements; fire, earth, air and water (and by extension, ice), featured on ABC's
Once Upon a Time
and
Once Upon a Time in Wonderland
.
Known Elementals
Poseidon – As the ruler of the oceans, Poseidon can teleport through bodies of water.
Hades – Hades has the ability to control fire, and uses the River of Lost Souls to trap people's souls.
Merlin – Merlin, with his powers from the Holy Grail, can control fire and earth.
Maleficent – Maleficent has the ability to control and conjure fire.
Snow White (briefly) – In the alternate reality created by Isaac Heller, Snow White can conjure fireballs.
Ice Magic
Some people can only exclusively practise ice magic, specifically certain members of the royal family of Arendelle:
Ingrid – Ingrid can control and conjure ice and snow, teleport as flakes of snow and give life to ice creatures.
Elsa – Although she is less powerful than her aunt Ingrid, Elsa can control and conjure ice and snow, and has the ability to give life to creatures of ice and snow, such as Marshmallow.
Ad blocker interference detected!
Wikia is a free-to-use site that makes money from advertising. We have a modified experience for viewers using ad blockers

Wikia is not accessible if you've made further modifications. Remove the custom ad blocker rule(s) and the page will load as expected.