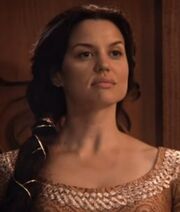 Elinor
is a character on ABC's
Once Upon a Time
. She was the Queen of
DunBroch
, succeeded by her daughter
Merida
. She is also the wife of the late
King Fergus
. She is portrayed by
Caroline Morahan
.
Biography
Background
Elinor and Fergus were the King and Queen of DunBroch, and had four children. Fergus died in battle, leaving his wife and daughter to grieve his death.
Season 5
After Fergus' death, Merida becomes the Queen, with Elinor announcing the beginning of Merida's reign at her coronation ceremony.
Family
Status: Alive
Trivia
She is based on the queen Elinor from Brave.
Appearances
S5, E09: "The Bear King" (flashback)
Ad blocker interference detected!
Wikia is a free-to-use site that makes money from advertising. We have a modified experience for viewers using ad blockers

Wikia is not accessible if you've made further modifications. Remove the custom ad blocker rule(s) and the page will load as expected.