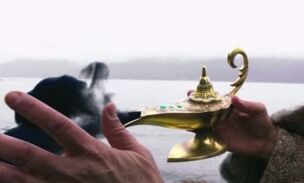 Genies
are featured on ABC's
Once Upon a Time
and
Once Upon a Time in Wonderland
. They are people who have used the water from the Well of Wonder to fuel their own desires, and have therefore been cursed to live in a lamp or bottle immortal, while granting the wishes and desires of anyone who becomes their master.
Known Genies
Appearances
S1, E11: "Fruit of the Poisonous Tree" (flashback)
---
S3, E02: "Lost Girl" (flashback)
S3, E09: "Save Henry" (flashback)
---
S6, E09: "Changelings"
S6, E10: "Wish You Were Here"
S6, E15: "A Wondrous Place"
---
W, E01: "Down the Rabbit Hole"
W, E02: "Trust Me"
W, E03: "Forget Me Not"
W, E04: "The Serpent"
W, E05: "Heart of Stone"
W, E06: "Who's Alice?"
W, E07: "Bad Blood"
W, E08: "Home"
W, E09: "Nothing to Fear"
W, E10: "Dirty Little Secrets"
W, E11: "Heart of the Matter"
W, E12: "To Catch a Thief"
W, E13: "And They Lived..."