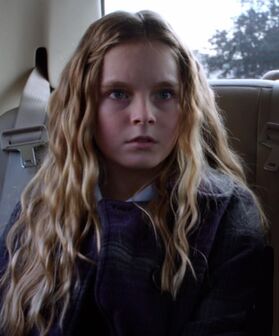 Gretel
is a character featured on ABC's
Once Upon a Time
. She, along with her brother
Hansel
, find themselves entering the
Blind Witch
's house. During the first
Dark Curse
, she is known as
Ava Zimmer
. Gretel is portrayed by
Karley Scott Collins
.
Biography
Background
While out in the woods one day with their woodcutter father, Hansel and Gretel find that they cannot find him. They search for him when they run into Queen Regina Mills' carriage. She terrorizes them until she realizes that their bravery may be useful, and enlists them on a mission into the Gingerbread House of the Blind Witch to retrieve the Poisoned Apple. Hansel and Gretel do so, and manage to defeat the Blind Witch by locking her in an oven, which Regina later sets alight. The Queen offers to let Hansel and Gretel stay at her palace, but they refuse so she traps them in the infinite forest. It is later revealed that Regina kidnapped their father.
Season 1
They become orphans in Storybrooke named Nicholas and Ava Zimmer. However, Emma Swan manages to reunite them with their father, who is also in Storybrooke.
Family/Relationships
Status: Alive
Trivia
Appearances
Ad blocker interference detected!
Wikia is a free-to-use site that makes money from advertising. We have a modified experience for viewers using ad blockers

Wikia is not accessible if you've made further modifications. Remove the custom ad blocker rule(s) and the page will load as expected.