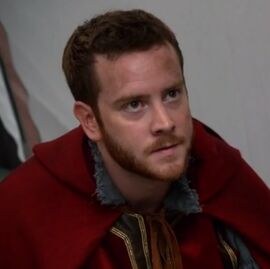 Grif
is a character on ABC's
Once Upon a Time
. He is portrayed by
Giacomo Baessato
.
Biography
Background
Grif served as King Arthur's squire in Camelot.
Season 5
When Arthur's magic bean supposedly goes missing in Storybrooke, David helps him find the thief, who turns out to be Grif. However, there was no magic bean and it was all a ploy by Arthur to gain the Charmings' trust. Arthur visits an imprisoned Grif at the police station, and convinces him to drink Agrabahn viper venom. Grif consumes the poisonous liquid and dies, his body vanishing into green smoke.
Family/Relationships
Status: Deceased
Trivia
Appearances
S5, E03: "Siege Perilous"
Ad blocker interference detected!
Wikia is a free-to-use site that makes money from advertising. We have a modified experience for viewers using ad blockers

Wikia is not accessible if you've made further modifications. Remove the custom ad blocker rule(s) and the page will load as expected.