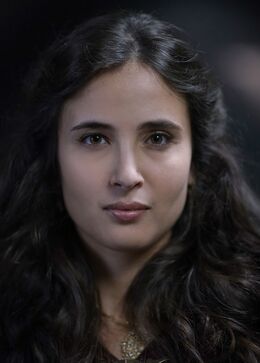 Queen Guinevere Pendragon
is a character on ABC's
Once Upon a Time
. She is the wife of
Arthur Pendragon
, and the Queen of
Camelot
. Guinevere is portrayed by
Joana Metrass
, with her younger self portrayed by
Dalila Bela
. Her gallery is available
here
.
Biography
Background
Guinevere marries Arthur, and they become the King and Queen of Camelot when he withdraws Excalibur from the stone. However, Excalibur's tip is missing and Arthur becomes obsessed with finding it. The tip ends up being the Dark One's Dagger, so Guinevere and Lancelot go out to retrieve it. They fail however, and Guinevere settles for sand from Avalon which can make anything appear to be fixed. Guinevere attempts to deceive Arthur at first, but Arthur uses the sand on her and makes her think their marriage is fixed, before Arthur uses the sand to transform Camelot into a grand kingdom.
Season 5
Arthur introduces his guests to Guinevere, and a ball is thrown in their honor. However, Guinevere expresses concern about their guests, which include the former Evil Queen and the Dark One. Guinevere and the other inhabitants of Camelot are consumed by the fourth Dark Curse, and arrive in Storybrooke with no memories of the past six weeks. Shortly after Arthur is found dead, Guinevere and the others taken with the fourth Curse are returned to the Enchanted Forest via a magical door constructed by Zelena.
Family/Relationships
Status: Alive 
Trivia
Appearances
S5, E02: "The Price" 
S5, E03: "Siege Perilous" (flashback) 
S5, E04: "The Broken Kingdom" (flashback) 
S5, E05: "Dreamcatcher" 
S5, E06: "The Bear and the Bow" 
S5, E07: "Nimue" (flashback) 
S5, E08: "Birth" 
S5, E10: "Broken Heart" (flashback)
S5, E22: "Only You"