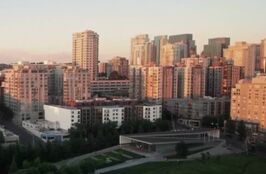 Hyperion Heights
is a location on ABC's
Once Upon a Time
. It is a neighborhood in
Seattle
 where the inhabitants of the
New Enchanted Forest
are taken to by the
Coven
's
Dark Curse
.
Inhabitants
Trivia
Behind the Scenes
Hyperion Heights is named after Hyperion Avenue, where the two original Disney animation buildings were.
Appearances
S7, E01: "Hyperion Heights"
S7, E02: "A Pirate's Life"
S7, E03: "The Garden of Forking Paths"
S7, E04: "Beauty"
S7, E05: "Greenbacks"
S7, E06: "Wake Up Call"
S7, E07: "Eloise Gardener"
S7, E08: "Pretty in Blue"