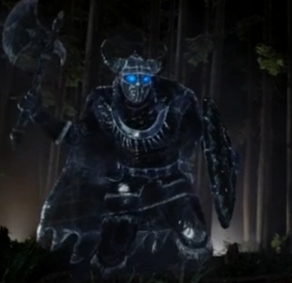 The
Ice Warrior
is a beast on ABC's
Once Upon a Time
, created by the
Snow Queen
.
Biography
Season 4
The Snow Queen creates the Ice Warrior to get rid of Emma Swan and Regina Mills, however their combined magic destroys the Ice Warrior.
Trivia
The Snow Queen creating the Ice Warrior uses the same magic and is similar to Elsa creating Marshmallow
Appearances
S4, E05: "Breaking Glass"
Ad blocker interference detected!
Wikia is a free-to-use site that makes money from advertising. We have a modified experience for viewers using ad blockers

Wikia is not accessible if you've made further modifications. Remove the custom ad blocker rule(s) and the page will load as expected.