This is a list of
Ingrid'
s statuses and blogs on
Storybrooke Live
.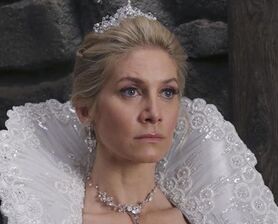 Arendelle
I am so glad to be free of that urn! Arendelle is now run by my niece, Elsa... who is like me! How wonderful. I wanted to wait for the right time to tell her I'm her aunt. The royal portrait artist did an amazing job painting my sister, though...so it slipped! Family is so wonderful, especially when they understand you.
Hello, dear Anna. I'm sorry your mother never told you about me. I was trapped in an urn by people who didn't understand me. Ice magic... runs in the family.
I'll do it, Rumplestiltskin. Whatever the cost. I don't want this magic anymore.
Gerda, no, please, don't put me in the urn!!!
If I give this hat to you, Apprentice… I'll find my third sister? Why is the Sorcerer doing this, if he doesn't make deals? Here… take the hat.
Storybrooke
Seeing happy families really warms my heart. Here's some rocky road for the little man, and a taste on the house for his beautiful mother.
#WithSomethingExtra
My plans are coming together quite well. Now if only Rumplestiltskin would stop trying to make deals with leverage he doesn't have... annoying man.
Oh dear. You got me. Your magic is getting stronger, Emma.
Everything's going according to plan...
Now my sisters are bound to me. These beautiful yellow ribbons show that.
Now, I wield the magic of my three sisters, now my mirror is complete! And with this power I can finally cast a spell over all of Storybrooke. I can probably even defeat you, Rumplestiltskin, and decorate this place with your bones! Shall we try? Don't underestimate my power!
Ad blocker interference detected!
Wikia is a free-to-use site that makes money from advertising. We have a modified experience for viewers using ad blockers

Wikia is not accessible if you've made further modifications. Remove the custom ad blocker rule(s) and the page will load as expected.