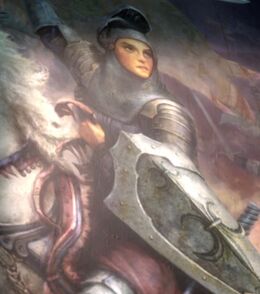 Joan of Arc
is a character referenced on ABC's
Once Upon a Time
.
Biography
Background
Anna, princess of Arendelle, is a fan and admirer of Joan of Arc, to the point where she goes under the alias "Joan" when travelling to the Enchanted Forest and boarding at David and Ruth's farm.
Family/Relationships
Status: Deceased, presumably
Trivia
This reference to Joan of Arc refers to Anna saying "Hang in there Joan" to a portrait of Joan in the Disney film Frozen.
In French history, Joan of Arc was a girl who allegedly received messages from God. She ended up commanding battles at a young age, and was ultimately burned at the stake for blasphemy.
Mentioned
Ad blocker interference detected!
Wikia is a free-to-use site that makes money from advertising. We have a modified experience for viewers using ad blockers

Wikia is not accessible if you've made further modifications. Remove the custom ad blocker rule(s) and the page will load as expected.