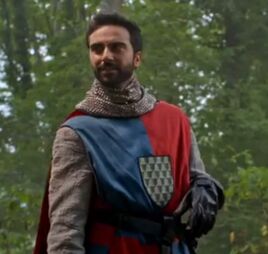 Sir
Kay
is a character on ABC's
Once Upon a Time
. He is portrayed by
Lee Majdoub
. His younger self is portrayed by
Ehren Kassam
.
Biography
Background
As a teenager, Kay taunts Arthur and claims that he will never be king. Kay later rides to Excalibur, in order to pull it from the stone and become ruler of Camelot. However, he fails in his task and is reduced to dust.
Family
Status: Deceased
Trivia
Appearances
S5, E01: "The Dark Swan" (flashback)
S5, E04: "The Broken Kingdom" (flashback)
Ad blocker interference detected!
Wikia is a free-to-use site that makes money from advertising. We have a modified experience for viewers using ad blockers

Wikia is not accessible if you've made further modifications. Remove the custom ad blocker rule(s) and the page will load as expected.