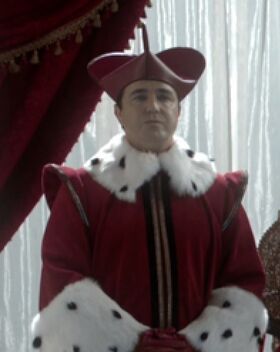 For the page about the first knave, see here.
The second Knave Of Hearts is a character on ABC's Once Upon a Time. He is portrayed by Paul McGillion.
Biography
Background
After the previous Knave leaves the Queen of Hearts's service, the new Knave speaks on behalf of her to Jefferson. After Jefferson is beheaded but still kept alive, the Knave tells Jefferson that he must recreate the hat for the Queen of Hearts. Jefferson's body is reattached and he is locked away where he makes hundreds of hats with no luck, in which he eventually becomes the Mad Hatter, who keeps saying "Get it to work", a phrase which the Knave orders him to do. When Captain Hook travels to Wonderland to assassinate the Queen of Hearts, he is brought before her and the Knave. However, when Hook mentions the Queen's real name - Cora - she orders the Knave and the other nobles to leave them in private.
Family/Relationships
Status: Alive, presumably
Trivia
Appearances
S1, E17: "Hat Trick" (flashback)
---
S2, E09: "Queen of Hearts" (flashback)
Ad blocker interference detected!
Wikia is a free-to-use site that makes money from advertising. We have a modified experience for viewers using ad blockers

Wikia is not accessible if you've made further modifications. Remove the custom ad blocker rule(s) and the page will load as expected.