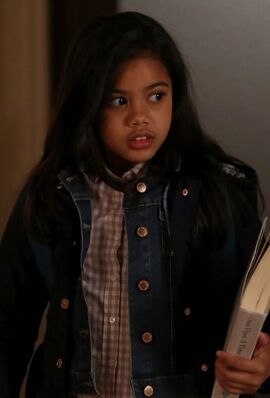 Lucy Mills
is a character on ABC's
Once Upon a Time
. She is portrayed by
Alison Fernandez
. Lucy's gallery is
here
.
Biography
Background
Lucy is the daughter of Henry Mills, although they end up separated somehow and Lucy decides to find her father.
Season 6
Years after the Final Battle of Storybrooke, Lucy arrives in Seattle, where she finds her father Henry's apartment. Although Henry denies having a daughter, Lucy implores him to come with her and save their family.
Lucy and Henry find themselves in the Enchanted Forest, where Henry goes missing and Lucy meets Tiger Lily, and they look for Lucy's mother.
Family / Relationships
Alive:
Deceased:
Status: Alive
Trivia
Lucy is the daughter of Cinderella from the fairytale Cinderella.
Appearances
S6, E21: "The Final Battle, Part One"
S6, E22: "The Final Battle, Part Two"
Ad blocker interference detected!
Wikia is a free-to-use site that makes money from advertising. We have a modified experience for viewers using ad blockers

Wikia is not accessible if you've made further modifications. Remove the custom ad blocker rule(s) and the page will load as expected.