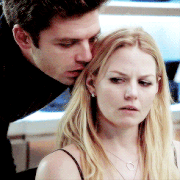 "
MadSwan
" is the fan-dubbed name of the
Jefferson
/
Emma Swan
ship on ABC's
Once Upon a Time
.
Ship Info
Jefferson and Emma only met once, when he abducted her so that she would make a hat imbued with enough magic to take him back to the Enchanted Forest. However, Emma escaped, and hasn't seen Jefferson since.
Trivia
MadSwan is a non-canon ship.
Emma is the daughter of Snow White and Prince Charming from 'Snow White', while Jefferson is the mad hatter from 'Alice in Wonderland'.
Ad blocker interference detected!
Wikia is a free-to-use site that makes money from advertising. We have a modified experience for viewers using ad blockers

Wikia is not accessible if you've made further modifications. Remove the custom ad blocker rule(s) and the page will load as expected.