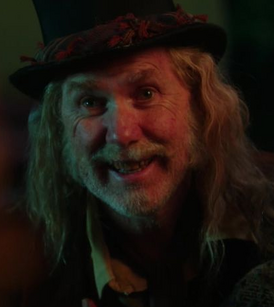 Martin
is a character on ABC's
Once Upon a Time
. He is portrayed by
Harry Groener
.
Biography
Background
Martin, along with his wife Myrna and their son Jiminy, run a puppet show in order to entertain villagers. While Martin and Myrna perform the show, Jiminy goes around pickpocketing villagers. After Martin and Myrna use a potion that Jiminy obtained from Rumplestiltskin to transform an unwitting couple into a pair of wooden puppets, Jiminy abandons his parents and the Blue Fairy fufills his wish of being a conscience figure to the couple's son.
Family
Status: Deceased, presumably
Trivia
Martin and Myrna are based on Honest John and Gideon from the fairytale The Adventures of Pinocchio.
Myrna and Martin's names combined are "Myrna Martin", the name of a psychiatrist. Interestingly, their son Jiminy becomes a psychiatrist in Storybrooke during and after the Dark Curse.
Appearances
S1, E05: "That Still Small Voice" (flashback)