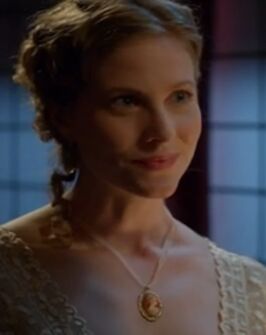 Mary Lydgate
is a character on ABC's
Once Upon a Time
.
She is portrayed by
Elizabeth Blackmore
.
Biography
Background
Mary is the daughter of Dr. Arthur Lydgate, who runs a prestigious academy that Mary's friend Henry Jekyll manages to get into by using Mr. Hyde to blackmail Arthur. Jekyll also falls in love with Mary, although when Mary does not reciprocate his feelings and falls in love with Hyde instead, Jekyll ends up becoming furious with Mary and a physical confrontation results in Jekyll pushing Mary out the window of her bedroom, where she falls to her death.
Family/Relationships
Status: Deceased
Trivia
She may be loosely based on Mary Reilly from the story of the same name, Mary Reilly.
Mary's necklace ends up in Mr. Gold's pawnshop, until Hyde takes it back.
Appearances
S6, E04: "Strange Case" (flashback)
Ad blocker interference detected!
Wikia is a free-to-use site that makes money from advertising. We have a modified experience for viewers using ad blockers

Wikia is not accessible if you've made further modifications. Remove the custom ad blocker rule(s) and the page will load as expected.