To read about the mercenary known as "The Woodcutter", see here.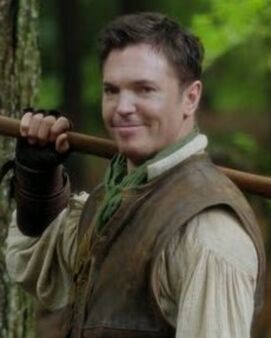 Michael Tillman
, formerly known as the
Woodcutter
, is a character on ABC's
Once Upon a Time
. He is portrayed by
Nicholas Lea
.
Biography
Background
He spent his life in the Enchanted Forest as a woodcutter, and the father of Hansel and Gretel. However, their father is abducted by Queen Regina as part of a ploy to get their cooperation in infiltrating the Gingerbread House of the Blind Witch.
Season 1
In Storybrooke, Michael is a mechanic with possibly false memories of a woman named Dory; the mother of his cursed children, "Nicholas" and "Ava", who are in reality Hansel and Gretel. His children are orphans, and while Michael did not know of their existence prior to Sheriff Emma Swan informing him, Michael is reluctant to assume responsibility until he actually sees them, and takes them in.
Family/Relationships
Status: Alive
* Dory may not have actually existed.

Trivia
Appearances