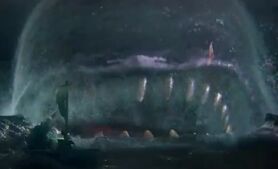 Monstro
is a sea monster on ABC's
Once Upon a Time
, that appears to be a large predatory whale that dwells in the ocean and is known for attacking people at sea.
Biography
Background
On a stormy night at sea, Monstro pursues Pinocchio and Geppetto, who are on a raft. However, they manage to escape Monstro's gaping maws and make it to shore. Afterwards, Pinocchio keeps a small wooden whale, in reminiscence of his encounter with Monstro.
Trivia
Appearances
S1, E20: "The Stranger" (flashback)
Ad blocker interference detected!
Wikia is a free-to-use site that makes money from advertising. We have a modified experience for viewers using ad blockers

Wikia is not accessible if you've made further modifications. Remove the custom ad blocker rule(s) and the page will load as expected.