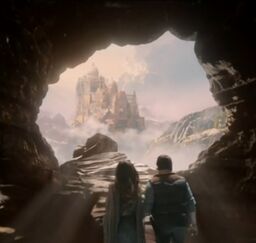 Mount Olympus
is a realm featured on ABC's
Once Upon a Time
. It is where the souls of the departed go to when they have no unfinished business and can move on peacefully.
Inhabitants
Trivia
It is based on Mount Olympus from Greek Mythology, albeit with added elements of the biblical heaven.
Strangely, while Olympus presented itself as a palace to most of the souls that move on, it appeared in the form of a ship in the ocean to Liam Jones and several former crew members.
Appearances
S5, E12: "Souls of the Departed"
S5, E13: "Labor of Love"
S5, E15: "The Brothers Jones"
S5, E19: "Sisters"
S5, E21: "Last Rites"
Ad blocker interference detected!
Wikia is a free-to-use site that makes money from advertising. We have a modified experience for viewers using ad blockers

Wikia is not accessible if you've made further modifications. Remove the custom ad blocker rule(s) and the page will load as expected.