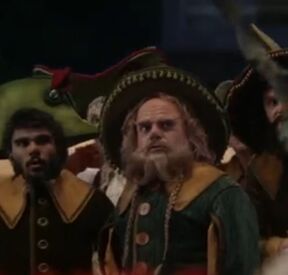 Munchkins
are creatures featured on ABC's
Once Upon a Time
. They are native to the land of
Oz
, and have the appearance of small people.
Known Munchkins
Trivia
Appearances
S5, E16: "Our Decay" (flashback)
S5, E18: "Ruby Slippers"
---
S6, E20: "The Song in Your Heart" (flashback)
S6, E21: "The Final Battle, Part One"
S6, E22: "The Final Battle, Part Two"
Ad blocker interference detected!
Wikia is a free-to-use site that makes money from advertising. We have a modified experience for viewers using ad blockers

Wikia is not accessible if you've made further modifications. Remove the custom ad blocker rule(s) and the page will load as expected.