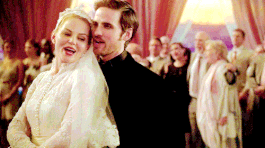 The
Musical Spell
is a spell cast upon
Snow White
's wish that made everyone in the
Enchanted Forest
(and
Oz
) briefly burst into song to express their emotions.
Used by
Used on
Trivia
The spell ended when Regina stole everyone's singing voices, similarly to how Ursula's was.

However, the spell remained in Emma's heart and was freed when she faced Fiona.

It is unknown whether the spell reached every realm, as it surpassed the Enchanted Forest and hit Oz.
Rumplestiltskin is immune to this spell, as "the Dark One doesn't sing".
The spell created eight songs, sung by different people:

Powerful Magic – sung by Snow White and David Nolan
The Queen Sings – sung by Queen Regina Mills, as well as the Magic Mirror, Granny, Geppetto, the Dwarves, Snow and David
Love Doesn't Stand a Chance – sung by Regina
Revenge is Gonna Be Mine – sung by Killian Jones and Smee
Wicked Always Wins – sung by Zelena Mills
Charmings vs the Evil Queen – sung by Snow, David and Regina
Emma's Theme – sung by Emma Swan
A Happy Beginning – sung by Emma, Killian, Regina, Zelena, Henry, Snow, David and everyone else
Appearances
S6, E20: "The Song in Your Heart"