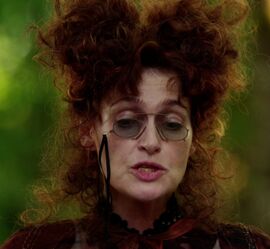 Myrna
is a character on ABC's
Once Upon a Time
. She is portrayed by
Carolyn Hennesy
.
Biography
Background
Myrna, along with her husband Martin and their son Jiminy, run a puppet show in order to entertain villagers. While Martin and Myrna perform the show, Jiminy goes around pickpocketing villagers. After Martin and Myrna use a potion that Jiminy obtained from Rumplestiltskin to transform an unwitting couple into a pair of wooden puppets, Jiminy abandons his parents and the Blue Fairy fufills his wish of being a conscience figure to the couple's son, Geppetto.
Family/Relationships
Status: Deceased, presumably
Trivia
Myrna and Martin are based on Honest John and Gideon from the fairytale The Adventures of Pinocchio.
Myrna and Martin's names combined are "Myrna Martin", the name of a psychiatrist. Interestingly, their son Jiminy becomes a psychiatrist in Storybrooke.
Appearances
S1, E05: "That Still Small Voice" (flashback)
Ad blocker interference detected!
Wikia is a free-to-use site that makes money from advertising. We have a modified experience for viewers using ad blockers

Wikia is not accessible if you've made further modifications. Remove the custom ad blocker rule(s) and the page will load as expected.