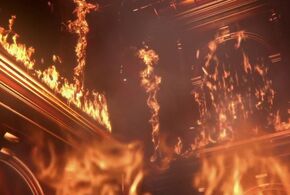 The
Netherworld
is a realm between life and death, featured on ABC's
Once Upon a Time
. Those who fall under the
Sleeping Curse
go to the Netherworld, and if they wake up, their soul can still go there when they sleep.     
Visitors
Trivia
Although their body is not physically transported to the Netherworld, they can receive burns when their soul does go to the Netherworld.
There are two known parts of the Netherworld: a black room filled with mirrors, and underneath it is a hellish red room with no windows or doors, filled with fire and resembling.
Appearances
S2, E07: "Child of the Moon"
S2, E08: "Into the Deep"