Welcome to the Once Upon a Time Wiki
This wiki is about ABC's hit television series, Once Upon a Time and its spin-off Once Upon a Time in Wonderland created by Adam Horowitz and Edward Kitsis.
Characters
Doctor Arthur Lydgate
is a character on ABC's
Once Upon a Time
and
Once Upon a Time in Wonderland
. He is portrayed by
Jonny Coyne
. Lydgate is a man of medicine in
Victorian England
, who serves as an obstacle to others, such as
Alice
and
Jekyll
.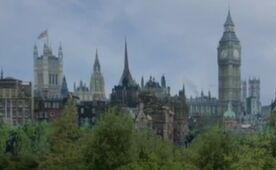 Victorian England is a realm featured on ABC's Once Upon a Time and Once Upon a Time in Wonderland. It is a realm preserved in Queen Victoria's reign over England. Victorian England is Alice's home-world when she isn't in Wonderland, and is also the home of Dr. Jekyll and Mr. Hyde, two men who came from one body.
Latest Episode
S6, E22: "The Final Battle, Part Two"
"The Final Battle, Part Two" – Henry awakens to a cursed Storybrooke and discovers Emma has been in the mental hospital, and the Black Fairy is the new mayor. Henry attempts to help Emma regain her memory while Gold tries to find out what has really happened to Belle. Meanwhile, Snow, Charming, Regina, Zelena and Hook are trapped in a crumbling Fairy Tale Land and desperately try to figure out a way to be reunited with Emma and Henry.
Ad blocker interference detected!
Wikia is a free-to-use site that makes money from advertising. We have a modified experience for viewers using ad blockers

Wikia is not accessible if you've made further modifications. Remove the custom ad blocker rule(s) and the page will load as expected.