Welcome to the Once Upon a Time Wiki
This wiki is about ABC's hit television series, Once Upon a Time and its spin-off Once Upon a Time in Wonderland created by Adam Horowitz and Eddy Kitsis.
Characters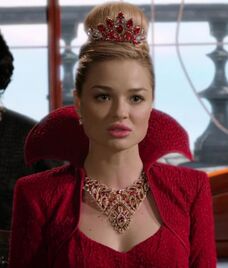 Anastasia
, also known as the
Red Queen
and later the
White Queen
, is a main character on ABC's
Once Upon a Time in Wonderland
. She is portrayed by
Emma Rigby
.
Latest Episode
S6, E05: "Street Rats"
"Street Rats" — In a flashback to Agrabah, Princess Jasmine recruits Aladdin to help her recover a secret weapon capable of breaking Jafar's hold on the Sultan and saving the city from ruin. Their quest takes them to the Cave of Wonders where Aladdin's fate is revealed. In Storybrooke, the Evil Queen tricks Hook and the Charmings and forces Emma to reveal her secret in an effort to divide the family. While the Evil Queen pampers Zelena, elsewhere in town, Regina and our heroes scramble to learn what became of Aladdin.
Affiliates
Be sure to have a look at some of our affiliate wikis.