Welcome to the Once Upon a Time Wiki
This wiki is about ABC's hit television series, Once Upon a Time and its spin-off Once Upon a Time in Wonderland created by Adam Horowitz and Eddy Kitsis.
Characters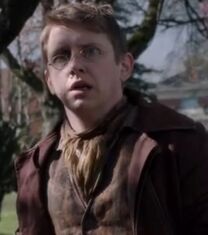 Dr. Jekyll
is a character on ABC's
Once Upon a Time
. He is portrayed by
Hank Harris
. Jekyll's gallery is
here
.
Latest Episode
Once Upon a Time
S5, E23: "An Untold Story"
"An Untold Story" – In the second hour, with the possibility of magic being destroyed and the fate of Storybrooke hanging in the balance, it's a race for Emma and Regina to track down Henry before Gold can find him first. Regina continues to struggle with her frustrations over her former evil-self and, elsewhere, Snow, David, Hook and Zelena are imprisoned and must contend with very two very disturbed individuals that may give Gold a run for his money.
Affiliates
Be sure to have a look at some of our affiliate wikis.