Welcome to the Once Upon a Time Wiki
This wiki is about ABC's hit television series, Once Upon a Time and its spin-off Once Upon a Time in Wonderland created by Adam Horowitz and Eddy Kitsis.
Characters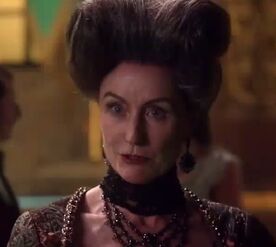 Lady Tremaine
is a character featured on ABC's
Once Upon a Time
. She is the cruel stepmother of
Cinderella
, and has two daughters named
Clorinda
and
Tisbe
, who are Cinderella's stepsisters. She is portrayed by
Lisa Banes
. Lady Tremaine's gallery is
here
. To read more, see
here
.
The
Mirror Realm
is a realm on ABC's Once Upon a Time. It is the world behind the mirrors, as the home of all the mirrors' reflections. It served as the
Magic Mirror
's prison for a time. To read more, see
here
.
Latest Episode
S6, E14: "Page Twenty-Three"
"Page 23" — Believing there isn't room in Storybrooke for both her and Regina, the Evil Queen sets out to eliminate her other half using Robin to bait the trap. Hook, determined to make things work with Emma, turns to his old friend Capt. Nemo for advice, but Gideon torpedoes his plan before he's able to set things right. In a flashback to the Enchanted Forest, the Evil Queen learns a surprising lesson about the true source of her misery.
Ad blocker interference detected!
Wikia is a free-to-use site that makes money from advertising. We have a modified experience for viewers using ad blockers

Wikia is not accessible if you've made further modifications. Remove the custom ad blocker rule(s) and the page will load as expected.