Welcome to the Once Upon a Time Wiki
This wiki is about ABC's hit television series, Once Upon a Time and its spin-off Once Upon a Time in Wonderland created by Adam Horowitz and Edward Kitsis.
Characters
Create your own story!
In denial that the series is over? Want the OUAT universe to continue spinning? Create your own story at the fanon portal.
(That's right, our wiki is now supporting fanon pages!)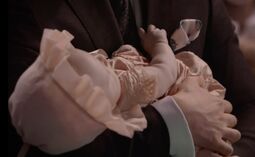 Hope Jones
is a character on ABC's
Once Upon a Time
. She is the child of
Emma Swan
and
Killian Jones
, the half-sister of
Henry Mills
, and granddaughter of
Snow White
and
Prince Charming
.
Final Episode
S7, E22: "Homecoming"
Wish Rumple's evil plan is revealed and Regina realizes the only hope to stop him is by turning Wish Henry from his path for vengeance. Meanwhile, Tilly and Margot try to get help in Storybrooke. With his hope of ever being reunited with Belle fading, Weaver struggles to find a way to defeat his evil alter ego; and when Rogers' life is threatened, he is faced with the ultimate sacrifice, on the series finale of Once Upon a Time.