Welcome to the Once Upon a Time Wiki
This wiki is about ABC's hit television series, Once Upon a Time and its spin-off Once Upon a Time in Wonderland created by Adam Horowitz and Edward Kitsis.
Characters
The
Jabberwocky
is a character featured on ABC's
Once Upon a Time in Wonderland
, portrayed by
Peta Sergeant
. She is a powerful creature that feeds off other people's fear. The only weapon powerful enough to stop the Jabberwocky from consuming
Wonderland
in horror is the
vorpal blade
. To read more, see
here
.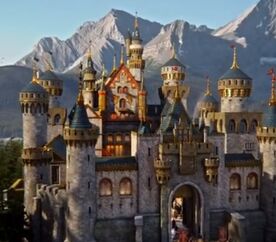 Camelot is a realm featured on ABC's Once Upon a Time. Often called a "broken kingdom" before it did not have a proper ruler, Camelot became a full-fledged kingdom when Arthur ascended to become King after pulling Excalibur from the stone. To read more, see here.
Latest Episode
S7, E02: "A Pirate's Life"
When Henry finds himself in trouble, he calls upon his Storybrooke family for help, and together they set off on a mission to find Cinderella. Along the way, Hook is confronted by an unexpected foe who threatens the group's success. In Hyperion Heights, Jacinda searches for a way to see Lucy with some unwelcome assistance from Henry, while Victoria Belfrey enlists the help of Rogers and Weaver to push Henry out of the neighborhood.
Ad blocker interference detected!
Wikia is a free-to-use site that makes money from advertising. We have a modified experience for viewers using ad blockers

Wikia is not accessible if you've made further modifications. Remove the custom ad blocker rule(s) and the page will load as expected.