Welcome to the Once Upon a Time Wiki
This wiki is about ABC's hit television series, Once Upon a Time and its spin-off Once Upon a Time in Wonderland created by Adam Horowitz and Eddy Kitsis.
Characters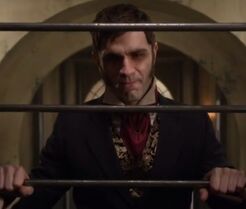 Mr. Hyde
is a character on ABC's
Once Upon a Time
. He is portrayed by
Sam Witwer
. Hyde's gallery is
here
.
Latest Episode
Once Upon a Time
S6, E01: "The Savior" As our heroes set out to stop Hyde, Emma develops a mysterious side effect, and Storybrooke becomes a haven for refugees from the Land of Untold Stories. Meanwhile, Regina and Zelena embrace their newfound sisterhood by becoming roommates, while Rumple tries to free Belle from the sleeping Curse with the help of a stranger. In flashback, Jafar confronts an afflicted Aladdin in Agrabah, and a secret about the Savior is revealed.
Read more: Listings - ONCE UPON A TIME on ABC | TheFutonCritic.com http://www.thefutoncritic.com/listings/20160906abc24/#ixzz4LS7ekdRe
Affiliates
Be sure to have a look at some of our affiliate wikis.