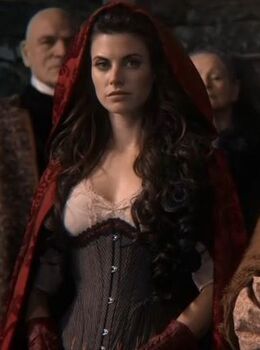 The
Red Hooded Cloak
is a magical item featured on ABC's
Once Upon a Time
. It is an enchanted cloak used by
Ruby Lucas
to prevent herself from turning into a
wolf
.
Information
After obtaining the cloak from a wizard by the name of Knubbin, Granny insists that Red wears the cloak at all times, stating that wolves do not like the color red. In reality however, the cloak has magical properties which stops Red from turning during wolfstime. Even if Red is already in her wolf form, if Red's wolf form is covered by the cloak, she will return to her original human form. The cloak is magic, so the spell doesn't wear off if there is a small tear in it.
Trivia
Appearances
S1, E01: "Pilot" (flashback)
S1, E10: "7:15 A.M." (flashback)
S1, E13: "What Happened to Frederick" (flashback)
S1, E15: "Red-Handed" (flashback)
S1, E16: "Heart of Darkness" (flashback)
S1, E20: "The Stranger" (flashback)
S1, E21: "An Apple Red as Blood" (flashback)
---
S2, E03: "Lady of the Lake" (flashback)
S2, E07: "Child of the Moon"
S2, E10: "The Cricket Game" (flashback)
---
S3, E12: "New York City Serenade" (flashback)
S3, E13: "Witch Hunt" (flashback)
S3, E22: "There's No Place Like Home"
---
S5, E09: "The Bear King" (flashback)
S5, E17: "Her Handsome Hero"
S5, E18: "Ruby Slippers"
---
Bk 1: "Reawakened"
Bk 2: "Shadow of the Queen"
Bk 4: "Red's Untold Tale"
Ad blocker interference detected!
Wikia is a free-to-use site that makes money from advertising. We have a modified experience for viewers using ad blockers

Wikia is not accessible if you've made further modifications. Remove the custom ad blocker rule(s) and the page will load as expected.