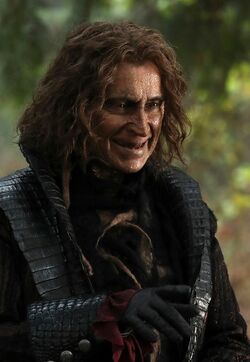 Rumplestiltskin
is a character on ABC's
Once Upon a Time
. He is the
Dark One
of the
Wish Realm
, and is portrayed by
Robert Carlyle
.
Biography
Background
After being imprisoned, Rumplestiltskin waited for the Dark Curse, but since it did not happen, he remained imprisoned decades later.
Season 6
Regina comes across Rumplestiltskin's prison, and is convinced to set him free since the world technically is not real. She makes a deal with the Dark One so that since she freed him, he must procure for her a magic bean so she and Emma can return to Storybrooke. When searching for Belle, he finds her dead and seeks revenge.
Family/Relationships
Status: Alive
Trivia
In reality, the Dark Curse did work and Rumplestiltskin was transported to Storybrooke until the curse broke, and he travelled to Manhattan to reunite with his son.
Appearances
S6, E10: "Wish You Were Here"
S6, E11: "Tougher Than The Rest"
---
S7, E13: "Knightfall" (flashback)