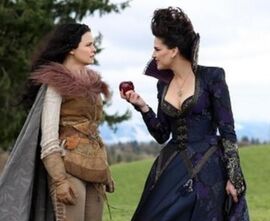 Season 1
is the first season of ABC's
Once Upon a Time
. It premiered on October 23, 2011 and concluded on May 13, 2012.
Characters
Main Characters
Other Characters
Featured Realms
Episodes
"Pilot"
"The Thing You Love Most"
"Snow Falls"
"The Price of Gold"
"That Still Small Voice"
"The Shepherd"
"The Heart is a Lonely Hunter"
"Desperate Souls"
"True North"
"7:15 A.M."
"Fruit of the Poisonous Tree"
"Skin Deep"
"What Happened to Frederick"
"Dreamy"
"Red-Handed"
"Heart of Darkness"
"Hat Trick"
"The Stable Boy"
"The Return"
"The Stranger"
"An Apple Red as Blood"
"A Land Without Magic"
Ad blocker interference detected!
Wikia is a free-to-use site that makes money from advertising. We have a modified experience for viewers using ad blockers

Wikia is not accessible if you've made further modifications. Remove the custom ad blocker rule(s) and the page will load as expected.