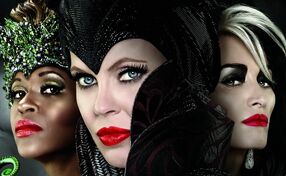 Season 4
is the fourth season of ABC's
Once Upon a Time
. It premiered on September 28, 2014 and concluded on May 10, 2015.
Characters
Main Characters
Other Characters
Featured Realms
Episodes
"A Tale of Two Sisters"
"White Out"
"Rocky Road"
"The Apprentice"
"Breaking Glass"
"Family Business"
"The Snow Queen"
"Smash the Mirror"
"Fall"
"Shattered Sight"
"Heroes and Villains"
"Darkness On The Edge Of Town"
"Unforgiven"
"Enter The Dragon"
"Poor Unfortunate Soul"
"Best Laid Plans"
"Heart Of Gold"
"Sympathy For The De Vil"
"Lily"
"Mother"        
"Operation Mongoose, Part One"
"Operation Mongoose, Part Two"
Ad blocker interference detected!
Wikia is a free-to-use site that makes money from advertising. We have a modified experience for viewers using ad blockers

Wikia is not accessible if you've made further modifications. Remove the custom ad blocker rule(s) and the page will load as expected.